Student and Teacher Voices at CWP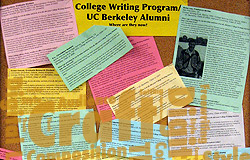 Cal graduates tell us what they are doing now and offer valuable advice to Cal students.
CWP faculty tell us about their courses and offer tips about reading, writing, and public speaking.
What are people saying about CWP?
Select a CWP class from the list below to read Student and Teacher Voices, quotes and advice relating to the CWP class selected.
Would you like to contribute your own Student and Teacher voices story? 
CW R1A - Accelerated Reading & Composition
Student Voices

LaSaunda Tate
UCB class of 2005
Law and justice programs director
Former student in CW R1A

 

Teacher Voices

Michelle Baptiste
Lecturer

Quote: My current work as a director at a non-profit organization requires a lot of writing. I'm responsible for writing reports (lots of reports) to evaluate my program and to provide context to potential funders. Updating curriculum is also another element of the writing that is required for my job, not to mention memos, updates, and emails to a host of professionals. Many of the professionals I interact with via email, telephone, and in person are lawyers or judges. Most of these individuals have mastered the English language, both as a writer and as an orator, and the knowledge acquired from College Writing R1A definitely gives me the skill and confidence needed in order to feel comfortable around such individuals. Because CW R1A focuses not only on writing skills, but reading and presentation skills as well, I have been able to call upon my old curriculum when editing my work, researching new legal curriculum, or preparing for a presentation. I truly don't know where I would be if I had not taken this class; I highly recommend CW R1A regardless of one's AWPE results.

Advice: Continue to improve your writing and reading skills. As a professional, you will need to learn how to write memos, briefs, notes, grants, etc., so take advantage of the College Writing courses that can help you in that arena. I have never met a perfect writer… so, ALWAYS EDIT your work and ALWAYS understand that no matter how great of a writer you may think you are or may become, you can improve.

 

Quote: It is so rewarding to see students move from very rough early drafts to the much revised and much stronger final drafts they proudly compile in the final portfolio! Although many students dread finding out that they have to take this six-unit, intensive reading and composition course, by the semester's end most students express deep gratitude for having been required to take a course that significantly strengthens them as readers and writers—and for many, helps spur their continued academic success and engagement at Cal. This course is ultimately about critical thinking and working to find meaning – interacting with texts, discussing your own writing and your peers', and discovering the places where you care enough about a topic or have read a text closely enough that you can build an analytic thesis argument and effectively support it.

Advice: When asked the first week of class what they want to work on as readers and writers, many students respond "grammar." Writing isn't only about grammar, though. Of course not! It's about communicating. It's about analyzing and understanding. It's about finding a way to deepen your thesis argument so that by the end of the essay, you've really said something significant and the reader feels thankful she read your paper to the very end (and you learned something in the process too). So remember as you revise (and revision is a must!) to take risks in rethinking your argument and to take seriously all the feedback from your readers—be they instructors or peers, as they're your audience, the ones you're writing for, after all!
Student Voices

Maria Rosales
UCB Class of 2006
Research Interviewer
Former student in CW R1A

 

Student Voices

Jonathan Pang
UCB Class of 2009
Former student in CW R1A

Quote: I am currently interning in the dermatology department at a health free clinic, which gives free healthcare to underrepresented minorities. As part of my internship I am writing a project proposal on quality of care at the dermatology clinic, as well as abstracting data from patient records and analyzing it, and my work will be published as an article in a journal. Besides this project proposal, I have written other project abstracts and proposals for other projects. Writing these proposals would have been difficult if I had not taken College Writing. The College Writing class that I took at UC Berkeley has helped me out in all aspects of my writing, such as organizing my ideas, stating a thesis, ending with a conclusion, and being coherent and grammatically correct. I use everything that I learned and am applying it to what I am doing now. I revise my writing using the methods that I used in College Writing such as peer editing.

Advice: Try your hardest to learn everything you can in the College Writing classes that are offered because everything that you learn you will definitely use in the real world. I had a writing tutor while I was taking the class and that helped me out a lot. Writing is not an easy task. I have writer's block all the time, and it doesn't mean that I can't write; it just means I have so many ideas it's hard to jot them down in sentences, but the key to it is not giving up. Great writing comes from making mistakes and correcting them. It's a long process.

 

Quote: I write resumes, cover letters, and personal statements for various applications. College Writing taught me how to write coherent and concise essays. In addition, I discovered my writing style and writing technique, which involves lots of rough drafts, that works for me. Without College Writing, I do not think I could write as well as I do now.

Advice: Don't be afraid of doing lots of rough drafts, especially when you do not know what to write about. I found brainstorming and writing what you have in your mind usually stimulate more thoughts and ideas. Also, always revise your paper until there is minimal repetition and undefined terms.
Student Voices

Andy Zhang
UCB class of 2009
Former student in CW R1A and CW R4B

 

Student Voices

Jen Verzosa
UCB Class of 2009
Music journalist
Former student in CW R1A

Quote: I have written lab reports, review articles, and critique articles for some of my science classes. I have also written term papers for many non-science classes I have taken. College Writing R1A is very helpful in my overall understanding of writing. In fact, every time when I am about to write a paper, I always look back at papers I wrote for CW R1A as a reference standard. The class helped discipline my writing and showed me the importance of revision.

Advice: Any paper has the potential to get better. Always proofread your papers and try to modify them before submitting.  

 

Quote: I am an arts and entertainment contributing writer for the San Francisco Bay Guardian and East Bay Express, both alternative weekly newspapers.  In CW R1A, I learned how to articulate and organize information into clear and concise sentences—fundamental skills in journalism.  Not only did I learn how to write, I gained confidence in myself as a writer.  My teacher had always been very supportive of my writing, which gave me the courage to pursue a career in journalism.

Advice:  Just write.  It is the only way to get better.  Be open to constructive criticism.  And don't be afraid to write bad first drafts.  Everybody does.

 
Student Voices

In Young Chung
UCB class of 2009
Former student in CW R1A and CW 151

 

 

Quote: Before returning to Cal, I served two-years of military duty in the US Army and did internships in consulting and finance firms. Although the army and internships required different trainings and skills, my day-to-day tasks always involved relentless documentations, ranging from writing more than one hundred military memos to creating over-fifty-page Power Point presentations for financial investors. College Writing well equipped me to carry out such tasks [and] helped me improve from an international student who could not understand class assignments to a finance intern writing business proposals.  

Advice: Solid writing skill is far more important than many college students believe. Particularly, non-native students can ramp up their learning curves by memorizing and imitating good writing samples, such as The Times, The Economist, and College Writing instructors! 

 

 
CW R4B - Reading, Composition, & Research
Student Voices

Krista Lee Kracher
Former student in CW R4B

 

Teacher Voices

Kaya Oakes
Lecturer

Quote: The work that I did in CW R4B was definitely the most challenging, intriguing, and rewarding work that I have done at Cal. The professor's clear passion for the topic and my own enthusiasm that soon developed drove me to devote much time and effort to the class, which paid off extremely well in the end. My research for this class led me to a position as an intern for CollegeFashionista, one of the fashion blogs that I wrote about. This position offered an entirely new and thrilling perspective to the research that I had done. The site recently expanded, and now includes more campuses, as well as an international site.  It's been a really amazing experience to have been part of this work. I would not have been able to make the important connection to the editor of the site or to write the blog effectively without the skills that I acquired from R4B. The tools I learned from my work in this class are incredibly useful in all of my classes, and my confidence in my writing has improved tremendously. Most importantly though, I look at things differently now, I question everything around me, and I have found something that truly intrigues me.

Advice: Don't be afraid to just start writing. The process of putting your thoughts onto paper helps to clarify your thinking and allows you to see the direction that you want to take your paper. Make plenty of drafts, and when you are revising try to revise them at different levels—sentence, paragraph, and the essay as a whole. This helps to ensure that you are saying what you actually want to say and in the most effective way. 

 

Quote: One of the most rewarding things about doing research is the "a ha!" moment when discovery meets your own inspiration. Ever since I began teaching College Writing R4B, I've been able to help steer students toward that "a ha!" moment, but the best part is knowing that they've also learned how to investigate topics, dig into archives, do field work, handle precious manuscripts and find the right stuff on the internet on their own. Those skills not only pay off in this class, but in many other classes at Cal, in grad school, and in their working lives. And since students in R4B are encouraged to write about topics of their choice within our course themes, they also get to learn more about things that matter to them, and they become experts in those topics. Not even professional writers get to say they've done that at the end of most assignments!

Advice: The scariest part of starting any essay – especially in writing research essays – often comes when you realize you've got too much to work with and a lack of direction. Do not panic! It always helps to keep asking yourself questions: What does this mean? Why do these sources disagree? Do I really need this quote? And it also always helps to talk through your messy ideas with someone. In college your peers often turn out to be the best people to talk with, since they too can ask you questions to help you find your way out of the forest. And, of course, your teachers, librarians and tutors are there to help you navigate as well.
Student Voices

Kenneth Mendes
UCB class of 2009
Senior associate for Riviera Partners
Former student in CW R4B

 

Teacher Voices

Yuet-Sim Darrell Chiang
Lecturer

Quote: I write a great deal of e-mails, proposals, and reports relating to technology and business. My College Writing class helped me learn to articulate my points in a concise manner and also develop my own, unique tone of writing that helps my clients identify me in my written communications.

Advice: Take as many writing classes as you can. It's a skill that will carry you for the rest of your career. I've found that in the professional world, strong writers stand out tremendously as being excellent communicators. It can really help you get ahead.   

 

Quote: In this Reading, Writing and Research course, I strive to present research writing as greater than an academic exercise or a rite of passage into college.  Instead, I want students to understand that research, when meaningfully engaged in, is a way of making meaning, of making knowledge, and a vital way of shaping ourselves and our society.  I want students to leave the course not only having experienced the research process but also believing in its vision. In short, I want students to see themselves as life-long researchers and to embrace research in its broadest terms.

Advice: My experience has shown me that doing good research is a messy process and involves missteps, detours, dead ends—sometimes despair. Learning how to address them, correct them, is a critical skill that is caught not taught.  Students need to experience that.

 
CW 10A - Introduction to Public Speaking
Student Voices

Andrea Hernandez
UCB class of 2006
News reporter for the Ledger-Enquirer
Former student in CW 10A

 

Teacher Voices

Carolyn Hill
Lecturer

Quote: Today I work as a news reporter for the Ledger-Enquirer, the hometown newspaper for the city of Columbus, Georgia. For several months, I also hosted the newspaper's online news show, which would air three times a week. College Writing 10A, Introduction to Public Speaking, really helped me with my confidence in front of the camera. It's also helped my everyday communication skills—which is especially crucial to my job since I conduct interviews daily. Prior to the class, I had issues with talking too fast and not making steady eye contact. The class showed me how important it was to connect with your audience and to speak clearly and a moderate pace.

Advice: Write so people can understand you—clear and concise. Sometimes less is more. Elaborate vocabulary isn't always necessary.

 

Quote: I love teaching this course. Students in Intro to Public Speaking pull together to support each other more than I've seen in any class at Cal. They root for one another, cheer each other's successes, empathize with and help each other overcome the fear that many initially feel, and after a few weeks, as that fear lessens, their communal relief explodes out in a positive feedback loop of enthusiasm and energy. I see the Cal student community at its best in this course. I'm grateful for that view and proud of these students. 

Advice: If you're afraid of speaking in public, try this: look people in the eye, just as you do when you are speaking to your friends. Look at one person in the audience for two to three seconds, then look at the next person for two to three seconds, and keep on doing that until you are done talking. That way, it will feel as if you are having a series of short conversations with individual people, one-on-one, rather than talking to a sea of blank faces all staring at you at once.
CW 10B - Advanced Public Speaking
Student Voices

Scott Payne
UCB class of 2009
UCB graduate student, civil and environmental engineering
Former student in CW 10A and 10B

 

Teacher Voices

John Levine
Lecturer

Quote: I've applied the concepts learned in my public speaking courses to a variety of settings, including course instruction, running meetings as president of a campus organization, and presenting at the directors' meeting at my last internship. Though my degree was in engineering, public speaking was one of the most valuable courses that I took as an undergraduate. Clearly communicating complicated ideas, adapting your message to the intended audience, and being able to think clearly under pressure are all skills that are vital to professional engineering yet cannot be learned in most engineering classrooms. The public speaking courses in the College Writing department taught me these skills and more.

Advice: Learn to understand what the most important parts of your argument are so that you can express key points in a crisp fashion. You're free to elaborate from there, but if your audience doesn't understand the central point of what you're saying, they're just going to end up confused.

 

Quote: Once students get the basics of public speaking down in CW 10A, the fun really begins. In Advanced Public Speaking, we kick things off with impromptu speaking—-speaking, essentially, off the top of our heads. We follow that that up with delivering speeches on Sproul Plaza, imitating a famous orator's style of speaking, conducting interviews, and, finally, delivering a "real-world" speech. For those students who catch the public speaking "bug" in CW 10A, CW 10B is your chance to stretch your speaking muscles even more.

Advice: The most intimidating class assignment, by far, is the Sproul Plaza speech, but everybody who presents, to a person, says that this is a seminal Cal experience. After all, you are joining the legions of orators before you who helped make UC Berkeley the birthplace of free speech. You can do it!
CW 105 - Intermediate Composition: Finding Your Voice
Student Voices

Derrick Tao
UCB class of 2012
Interning at Boston Longwood Brigham and Women's Hospital 
Former student in CW 105 and 110

 

Teacher Voices

Jane Hammons
Lecturer

Quote: Leave the 5-paragraph essay behind! How about telling a story with a 140-character tweet or with a series of photographs? In CW 105 you'll be asked to share a message that is meaningful to you while thinking critically about the best way to do that. As a class you will push each other to improve your writing, from punctuation marks to the big idea. Utilizing all sorts of multimedia and Web 2.0 tools will help you understand the natural way you tell stories, allowing discovery of your own unique voice.

Advice: In addition to academic writing, you will read some amazing works of narrative nonfiction and you can write like that to, no matter what your major. Go ahead and try the things that stand out to you. You'll have plenty of drafts and opportunities to ask your peers what works and what doesn't, and the more extreme the experiment, the more tools you will gain along the way.

 

Quote: The design of the course is meant to be organic. While exploring multimodal means of communication, you'll read both journalism and theoretical articles about the influence of digital media on our lives. Become a better "hyper-reader" (reader of digital texts) and reflect on how various ways of reading, writing and creating texts affect your voice and your vision of yourself as a student and as a writer. Think in concrete ways about your own digital literacy and the importance of digital citizenship for all.

Advice: Be willing to take risks and challenge assumptions about reading and writing—yours and others'. Have fun learning how to use Web 2.0 writing tools, no matter your technical experience or expertise.
CW 110 - Advanced Composition: Challenging Writing
Student Voices

Martin Gibson
UCB class of 2012
Former student in CW 110

 

 

Quote: College Writing 110 was my first chance to write freely, in my own voice, about topics that were completely my own, and then have those writings critiqued by a professional, published author. The essays I wrote in CW110 are definitely my best written accomplishments—especially the personal narrative (it's my favorite). The class is so small and so comfortable that everyone pretty much ends up reading everyone else's essays, not because it is mandatory, but because they want to and because they are good. The instructor encourages everyone to experiment with their style, technique, and voice; all the boundaries that hold students back in typical academic essays are suddenly breakable. I can honestly say that I loved doing the homework for this class, and I have never said that about another class. It was fun.

Advice: Step outside of your comfort zone. Be bold! Be controversial! Use exclamation points! And commas, use lots of commas, but not too many, because that's annoying. Embellish the facts a little. Have fun! There is plenty of time in the class, so don't rush yourself. I think I wrote like nine drafts for my personal narrative, and I'm talking about serious drafts: completely new introductions, taking out paragraphs, putting in new ones, making some big changes. Don't be afraid to make those big changes, they will probably make your paper better.

 

 
CW 130 - Introduction to the Craft of Creative Writing
Student Voices

Monica Farid
UCB class of 2011
Research Analyst
Former student in CW R4B and CW 130

 

Teacher Voices

Michael Larkin
Lecturer

Quote: Currently, I help to summarize research studies and write up brief analyses of statistical charts and graphs. While my work does not involve much creative writing, I think CW 130 helped me to become flexible in adjusting my writing style and diction whether it is a play, short story, research summary, or memo I'm writing. In addition, peer review really helped me make my writing more clear and prepared me for the day I would write to an audience greater than just my instructor. CW 130 also gave me insight on what makes writing compelling, realistic, or persuasive, and what constitutes good dialogue. I believe this heightened awareness of how the elements of writing affect the reader ultimately helped make me a better writer. This class was both very enjoyable and useful—I would highly recommend it!

Advice: Make a plan summarizing all your main points before undertaking a writing task. Do not be discouraged when it seems to take a long time to express clearly and persuasively exactly what you mean. Practice writing as much as you can—it is not only useful for many other courses and the workplace, but can help to clarify your thinking and generate new ideas.

 

Quote: When we first designed CW 130, we thought of it as a creative writing course for students in majors that offered little or no chance to study and practice creative writing (or much writing of any kind, for that matter). And along with some English majors and aspiring writers, that's indeed what we got: students from a wide variety of academic backgrounds who wanted a kind of capstone course before they graduated that stretched them in ways they hadn't yet been stretched. In the course, we read masterful pieces of writing as if we are apprentice craftspeople (or, if you like, mechanics), figuring out how essays, short stories, and one-act plays are put together, how they work. And then we write our own pieces and discuss that writing, which is certainly a lot of fun, but it's more than that. CW 130 offers students a chance to read literature more carefully and in a different way than perhaps they're used to—as fellow writers. In so doing, and then in practicing the craft of creative writing, the students (and we teachers) become sharper readers not only of literature but also of the world around us and of ourselves.

Advice: Deciding what you're going to write is hard. So first off, stop reading this web page. Gather your materials if you need any other than your brain, do your psych-yourself-up dance or whatever you do to get ready, and then sit your butt down in the chair. Sit there and don't let yourself move until the words start to come. Don't worry, they will come. It may be only a single word the first time you do it, or maybe just a string of nonsense. (In fact, if you're stuck, just do that: write a string of nonsense for a while.) After a time, you'll have a serviceable sentence, and then a not-totally-horrible paragraph or scene, and then a page, two pages, three. Eventually, something will kick in and you won't be thinking about not writing anymore. Instead, you'll be rushing headlong, pausing only because you need to think about what you've already written, re-shaping it before you bound ahead again. Words beget words. The words will come. Have faith.

Student Voices

Caue da Matta
UCB class of 2011
Consular Officer
Former student in CW R4B and CW 130

 

 

Quote: Today I work as a Consular Officer for the Consulate-General of Brazil in Los Angeles and I spend most of my spare time reading and writing scripts of feature films. The introduction to the Craft of Creative Writing is an amazing course offered by the College Writing Programs. This course offers a comprehensive introduction to Personal Essay writing, Short Fiction and One Act Play. Because the Introduction to the Craft of Creative Writing covers so much in just a semester, it is likely that you'll find yourself re-visiting your notes and the books used in class for months and even years after you left Cal. This class helped improve my writing skills and taught me how to better edit and re-write my work.

Advice: Writing is a painful, arduous and yet immensely rewarding task that requires time and patience. Do not try to rush through any College Writing Class at Cal. Instead, take advantage of the opportunity you have to learn from amazing teachers that will help you in every possible way for you to improve your writing skills. The skills you learn in these College Writing Classes will help you read better, not only books, documents and text, but also the people that produce them. Improving your writing skills will help you organize your thoughts better and communicate them more effectively. My advice to students is to take every step of the writing process seriously. Take time and don't skip steps. Always research, outline, write, get feed-back, take time off, re-read, analyse, re-write and edit your work.

 

 
CW 151 - Introduction to Principles of Professional Communication
Student Voices

Nick Fradkin
UCB class of 2010
Former student in CW 151
Manager, Business Intelligence

 

Teacher Voices

Caroline Cole
Lecturer

Quote: In my current role at the Make-A-Wish Foundation, the bulk of the writing I do consists of program evaluation and market research reports that get distributed to staff and board members at each of the 62 Make-A-Wish Foundation chapters across the United States (and sometimes, to our international affiliates). With such a diverse audience, keeping relative, ambiguous words to a minimum is key—this is a skill that Dr. Cole taught my class. More pertinent to professional communication, however, are my daily email interactions with chapter staff regarding their deadlines for submitting financial and wish reports. In CW 151, I learned how to employ "you attitude" and positive emphasis to transform these types of messages that may otherwise sound demanding into concise, persuasive, and—most importantly—courteous requests of others. I found that the tactics taught in CW 151 were directly applicable to my current job, and I am forever grateful to have learned them from Dr. Cole.  

Advice: Investing in your professional writing skills will not only benefit you once you are in the workplace, but will also give you a competitive edge in your post-graduate job search. Take the time to write and re-write your resume and cover letters, and by all means, take advantage of the resources available to you at Cal—both at the Career Center and in the College Writing Programs department. If you enroll in CW 151, revise your homework until it is perfect; refuse to settle for anything less. The assignments and feedback are designed to challenge your instincts until the skills become second nature. Take writing seriously. There are too many people who seem to overlook its utility and end up disadvantaging themselves in the workplace. Do not underestimate the power of effective written communication. 

 

Quote: Despite claiming they've enrolled to get an "edge over the competition," the students who take CW 151 are some of the most enthusiastic, committed, and magnanimous individuals I have taught. Because of or, perhaps, in spite of the "real world" nature of the assignments, students find ways to engage with and adapt course principles to meet their professional and personal goals, all the while helping their peers do the same. As such, I am continually impressed with and awed by the ways students rise to meet the challenges of this course.

Many students leave CW 151 saying it was one of the most practical and useful classes they have taken at Cal, but I am more humbled by the students who visit or email me years after they have completed CW 151 simply to say they're still using information and materials from the course in their endeavors.

Over the years, CW 151 has helped countless students transition successfully into life after graduation. Having a courtside view of that process remains a highlight in my work as a teacher.

Advice: Being proficient in academic writing does not guarantee the ability to write effectively on the job. Guided by different purposes, audiences, values, and so on, industry writing may use some of the concepts found in academic writing, but often in unique ways. Unfortunately, employees usually discover these differences the hard way--in a supervisor's criticism, a colleague's confusion, a client's rejection--and when time and resources to clarify these differences are scarce.

You may have the most innovative idea, the most strategic approach, or the most cost-effective plan, but if you can't convey it in the ways valued by the people in industry, it doesn't matter. So be ahead of the learning curve. Enroll in a business writing course, attend a workshop, read books, and talk with industry professionals about their observations of workplace communication before entering the job market. By understanding when, how, or even if classroom writing techniques can be transferred to industry, you can ensure your ideas are conveyed as intended to the people that matter, whatever the forum. 

Student Voices

Rosa Seo
UCB class of 2010
Former student in CW 151 and CW R1A
Assistant Paralegal

 

Student Voices

Linda Qian
UCB Class of 2009
Former student in CW 151
CSR Communications Coordinator

Quote: On daily basis, I write formal emails and letters to the government and clients. College Writing 151 directly prepared me for the business and official writing required for the paralegal position. This applied to my previous job at a financial firm, which also required daily correspondence with clients. Writing is an essential part of the duties I perform, and I gained a lot of training and confidence in business writing from taking College Writing 151 at UC Berkeley.  

Advice: Take extensive reading and writing classes while you are at Cal because this is one of the unique opportunities to study with bright fellow students and learn from renowned professors. Everyone writes. Everyone has to write. It doesn't matter if you are an engineer, marketer, financial analyst, math teacher, or whatever. Not only do all jobs require some form of writing, in general writing helps expressing and articulating your thoughts. As a privileged Cal student, don't miss out the opportunity to hone your communication skills. 

 

Quote: In my current position at Intel Corporation, I engage internally through quarterly newsletters, emails, blogs, and presentations. Externally, I am active in social media (on behalf of Intel) and draft and coordinate communications like our Supplier Risk Assessment Summary, and respond to ratings such as the Dow Jones Sustainability Index and the Carbon Disclosure Project. Next year, I will also manage sections of our 2011 Corporate Responsibility report. Periodically, I attend conferences on behalf of Intel – for example, a recent stakeholder engagement workshop organized by consulting firm SustainAbility.

Advice: Maintain a professional writing voice in informal communication channels, such as email. Work on dropping the word "like" from your verbal vocabulary. It makes you seem, like, twelve years old – and greatly reduces your perceived intelligence.

Student Voices

Jackie Young
UCB class of 2011
Former student in CW 151
Speech and Debate Teacher, SAT Instructor

 

 

Quote: On a daily basis, I give lectures on argumentation theory, facilitate speaking drills, edit speech content and research debate evidence for middle and high school students. Writing, reading and public speaking are all integral to my responsibilities as a teacher for Speech and Debate and SAT preparation courses. College Writing 151 has been a tremendous factor in aiding my work. Word economy and written communication are crucial to success in any job, but these skills are particularly highlighted in activities such as speech and debate. Not only has CW151 helped me in how efficiently I create instructive handouts and edit speech content and debate evidence for students, but the influence also stands out in my email messages and written correspondence with students, parents, teachers and other speech and debate coaches. 

Advice: Take a writing class every semester if possible. Yes, it is a substantial amount of work, but it is meaningful work. Try to take different kinds of writing courses to gain exposure to all types and formats of writing. Try to get as many opinions as possible on how you can improve your writing over all. This is work that not only pays off in any career in any industry at any age or level, but also enriches your ability to communicate in any situation.  

 

 
Contribute to Student Voices
If you are a former College Writing Programs student and would like to share your experience and advice, please download and fill out the following brief survey and permission form, then email the form, along with a photo of yourself, to Michelle Baptiste at michellebaptiste@berkeley.edu, or send them to her attention in 112 Wheeler Hall #2500, Berkeley, CA, 94720-2500.