CWP Lecturer's Book Praised by Publishers Weekly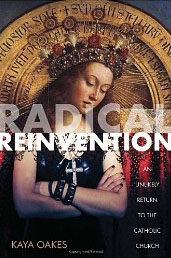 In a starred review, Publishers Weekly praises Radical Reinvention, a new memoir by CWP Lecturer Kaya Oakes. Publishers Weekly says, "Oakes not only treats readers to gorgeous prose, but manages to provide an overview and history of the best of the Catholic faith, without losing momentum."
A self-proclaimed foul-mouthed and tattooed liberal rebel, Kaya Oakes was not exactly Catholicism's poster-child. Abandoning Sunday school and sacraments for pro-choice rallies and mosh pits, Kaya proudly called herself an atheist. And yet, somewhere within her lingered a nagging sense of spirituality.
Having spent years searching for a better religious fit, Kaya finds herself reeling from marital stress, several tragedies in her family, and an unsatisfying job. Despite her frustration with Catholic conservatism, nothing brings her peace like Mass. After thirty years of running away, Kaya returns to the Catholic Church.
Rebellious and hypercritical, Kaya relearns the catechisms and achieves the sacraments, all while trying to reconcile her liberal beliefs with contemporary Catholic philosophy. Along the way she meets a group of feisty feminist nuns, a "pray-and-bitch" circle, an unsettlingly attractive priest, and a motley crew of misfits all trying to find their voices in an outdated institution.
This is a story of transformation, not only of Kaya's from ex-Catholic to amateur theologian, but ultimately of the cultural and ethical pushes for change that are rocking the world's largest religion to its core.