Arthur J. Quinn Room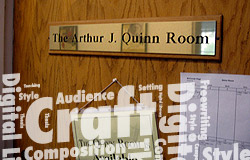 Our professional resource library and meeting room, located at 114 Wheeler Hall, is named for Art Quinn, the College Writing Programs' first director. The library, which is open to visitors by appointment, houses texts that focus on composition studies and English language learning.
A professor of rhetoric, a recipient of Cal's prestigious Distinguished Teacher Award, and a student of California history, Art was known especially for his passion for good writing and for his support of the profession of teaching writing. As our director, Art was keenly interested in the professional development of our writing faculty and in lively conversations about teaching writing.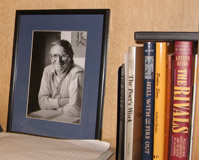 Art's untimely death at 54 brought his years of service to Cal to an end, but not his legacy. The Arthur J. Quinn Memorial Fellowship supports doctoral students who are writing dissertations on the history of California, and the Arthur J. Quinn Room continues his passion for writing and teaching by encouraging thoughtful conversations about composition and pedagogy.
To make an appointment to visit the library, contact Fadia Damon: fad@berkeley.edu