Berkeley Writers at Work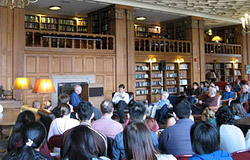 The Berkeley Writers at Work series was begun in 1997 as a forum for campus writers of note to discuss their writing process.
Research and teaching are the two primary goals of a large research university like Berkeley. Research is highlighted in many ways on this campus; to a lesser degree, so is teaching. However, writing itself—the primary way that faculty convey the results of their research—is rarely discussed.
The most common kind of writing forum involves writers of fiction and poetry reading selections and talking about the content of their work. Berkeley Writers at Work differs from these in that we focus (although not exclusively) on writers of nonfiction, and then on the process, rather than the content, to the extent that these can be separated.
Most of the campus community (faculty, staff, and students) spend most of their time writing pieces other than poetry and fiction, and we believe that it would be invaluable to make public the discussion of the kind of writing that most people at Berkeley are involved in, one way or another. How does a Pulitzer Prize winner in nonfiction get an idea? How does she start writing about it? How does he organize his work? Does she write in solitude? How does he revise? Edit? Who else reads the work in progress? These are all issues that many writers face, whether they are doing reports for the campus or books for publication.
Beyond developing a sense of community among the people who write on campus, we see this series as also simply highlighting writing on this campus. We have a number of truly gifted, award-winning writers whose work is more hailed elsewhere than here, except for an occasional short article in The Berkeleyan or California. This series provides a wonderful forum for writers on this campus.
Berkeley Writers at Work is aimed at the general campus community: faculty, staff, and students. College Writing instructors frequently ask their students to attend and assign them reading and writing assignments based on the interviews. Video and audio tapes and transcripts of each interview are available, as well as selected works by the featured writers. For more information, contact Steve Tollefson by email at tollef@berkeley.edu or phone (510) 642-6392.
Fall 2012: Professor Tyler Stovall, History, Dean of the Undergraduate Division L&S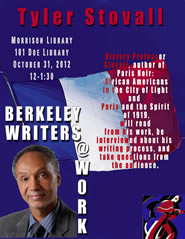 Wednesday, October 31, 2012
12:00-1:30 p.m.
Morrison Room, 101 Doe Library
Professor Tyler Stovall will be the featured writer this fall in the Berkeley Writers at Work series on October 31, 2012 from 12:00 to 1:30 pm in the Morrison Room, 101 Doe Library at UC Berkeley. Professor Stovall will read from his works, be interviewed about his writing process, and answer questions from the audience.
Stovall, who received his undergraduate degree from Harvard and his M.A. and Ph.D. from the University of Wisconsin, has been a Professor of History at UC Berkeley since 2001, and has served as Dean of the Undergraduate Division of the College of Letters and Science since 2008. He has written or edited several books, including Paris Noir (1996), France Since the Second World War (2002), and, most recently, Paris and The Spirit of 1919: Consumer Struggles, Transnationalism and Revolution (2012). His numerous academic articles have focused on race, class, and labor issues.
Stovall's writing has been praised for its clarity and grace. Of his Color of Liberty, the American Historical Review says the book's "seminal essays frame important questions about French 'histories of race' and contribute to our general understanding of the role race plays in shaping the modern world." And writing in The Nation, reviewer Jill Nelson calls Stovall's Paris Noir: African Americans in the City of Light, "rich with detail, insight, humor…. Paris Noir is to be read, enjoyed and read again."
Previous Forums
Fall 2011: Professor Alison Gopnik, Psychology
Professor Gopnik's research explores how young children come to know about the world around them. A world-renowned researcher and writer in her field, Gopnik has also written extensively for magazines and newspapers and is often a guest on public TV and radio, including The Colbert Report and This American Life.
She is the author or co-author of four books, including the highly praised best-seller The Philosophical Baby (2009, Farrar, Straus and Giroux), which was named one of Amazon's Top Ten Science Books of 2009, and which has been called "engaging," "lively," "delightfully written."
Charles Ferryhough, writing in The Financial Times (London 2009), says, "As a guide to the field of cognitive development, there can be few people better qualified than Gopnik. This eminent developmental scientist writes with wit, erudition and an admirable aversion to jargon, and her book provides an intriguing perspective on some philosophical questions." Mark Sloan (San Francisco Chronicle, 2009) says, "Gopnik is a fine writer, and her wit enlivens a subject that could easily veer into the overly abstract. Her willingness to poke gentle fun at herself, her own parenting foibles and her hometown of Berkeley make for enjoyable reading."
Fall 2010: Georgina Kleege, Lecturer in the Department of English
A specialist in creative writing and disability studies, Georgina Kleege received her B.A. from Yale and has been at Berkeley since 2003. She specializes in creative nonfiction, disability autobiography, and blindness and visual art. She teaches courses in creative writing and disability studies. Her readings and presentations take her to universities and art museums across the United States and Canada, most recently to the "Art Beyond Sight Conference" at the Metropolitan Museum of Art in New York.
Six of her essays have been cited as "notable essays" in The Best American Essays series, in six different years. Among her works are the books Blind Rage: Letters to Helen Keller (Gallaudet University Press, 2006), Sight Unseen (Yale University Press, 1999), and the novel Home for the Summer (Post-Apollo Press, 1989).
"[Blind Rage]is utterly absorbing, both in its graceful renditions of particular days in Keller's life and in the author's self-analysis along the way. Kleege is a gifted writer—her description of Keller's final day is wondrous. This book has a cumulative power, and the reader—whether or not already familiar with Keller's life—will become deeply moved," says Margaret Heilbrun in the September 2006 Library Journal. Arthur Danto in the April 1999 issue of The New Republic calls Sight Unseen "a provocative book, gracefully written and morally urgent," while F. Gonzalez-Crussi (Commonweal, August 1999) says that the writing is "impeccable, elegantly sparing prose."
Fall 2009: Professor Walter Alvarez, Geology
Walter Alvarez is best known for his discovery—with his father Luis W. Alvarez— of a thin layer of iridium at the Cretaceous-Tertiary (K-T) boundary. This discovery led them to postulate that the layer was the result a large asteroid colliding with the Earth; this impact was, in their theory, likely the cause of the extinction of the dinosaurs.
Alvarez has written extensively. Among his books are T. rex and the Crater of Doom, published in 1997, and, most recently, The Mountains of Saint Francis: Discovering the Geologic Events That Shaped Our Earth, a highly readable introduction to geology. Additionally, he has published more than 150 scientific articles in journal and monographs. T. rex, which was a New York Times Notable Book of 1997, was lauded by the Kirkus Review as "appealing and accessible, an excellent introduction to the subject." Timothy Ferris in his review for The New York Times calls the book "deft and readable." And Charles Petit of the San Francisco Chronicle considers it "a first rate, swiftly paced tale of how science can propel its participants down avenues of surprising discovery to breathtaking conclusions."
Writing in the esteemed journal Nature, Ted Nield praised Alvarez's book The Mountains of Saint Francis as "compelling and engagingly told…I would make it required background reading for students of Earth science."
Walter Alvarez is a Guggenheim Fellow and the recipient of a number of distinguished awards and honors.
Fall 2008: Professor Robert Reich, Goldman School of Public Policy
Reich, who received his B.A. from Dartmouth and J.D. from Yale, was a Rhodes Scholar. He has served in three national administrations, most recently as Secretary of Labor under President Bill Clinton. He has written eleven books, including The Work of Nations, which has been translated into 22 languages; the best-sellers The Future of Success and Locked in the Cabinet; and his most recent book, Supercapitalism. Mr. Reich is co-founding editor of The American Prospect magazine. His commentaries can be heard weekly on public radio's "Marketplace."
Critics have given rave reviews to his books. In the May 11, 1997 San Francisco Chronicle, Daniel Wick says, "At long last, a cabinet member with a sense of humor. Whether or not one agrees with Reich's politics, Locked in the Cabinet is a superb political memoir, entertainingly insightful and painfully honest." Of Supercapitalism, the News & Observer says, "Smart and provocative . . . Reich's proposed responses to supercapitalism are at once bold and surprising; [he] challenges us to think deeply about political economy."
Fall 2007: Professor Bonnie Wade, Richard and Rhoda Goldman Chair in Interdisciplinary Studies and Chair of the Department of Music
Interviewed by Melinda Erickson, College Writing Programs
Books
Imaging Sound: An Ethnomusicological Study of Music, Art and Culture in Mughal India (University of Chicago Press, 1998).
Khyal: Creativity within North India's Classical Music Tradition (with cassette) (Cambridge University Press, 1984; reprinted Munshiram Manoharlal, 1997).
Music in India: The Classical Traditions (Prentice-Hall,1979; reprinted Riverdale/Simon and Schuster, 1987; second edition, Manohar, 1997).
Music in Japan (Oxford University Press, 2005).
Tegotomono: Music for the Japanese Koto (Greenwood/Praeger, 1976).
Thinking Musically: Experiencing Music, Expressing Culture (Oxford University Press, 2004).
Fall 2006: Professor Elaine Kim, Ethnic Studies
Interviewed by Steve Tollefson, College Writing Programs
Books
Fresh Talk/Daring Gazes: Conversations on Asian American Art (with Margo Machida and Sharon Mizota). Berkeley and Los Angeles: University of California Press, 2003.
Invasian: Asian Sisters Represent. San Francisco: S.F. Study Center, 2003.
Echoes Upon Echoes: New Korean American Writing, with Laura Hyun Yi Kang. Philadelphia: Temple University Press 2003.
Making More Waves: New Writing By Asian American Women (co-edited with Lilia V. Villanueva). Boston: Beacon Press, 1997.
East to America: Korean American Life Stories (co-edited with Eui-Young Yu). New York: The New Press, 1996.
Making Waves: Writings By and About Asian American Women (co-edited with Asian Women United of California). Boston: Beacon Press, 1989.
With Silk Wings: Asian American Women At Work. San Francisco: Asian Women United, 1983.
Asian American Literature: An Introduction to the Writings and Their Social Context. Philadelphia: Temple University Press, l982.
Articles
"Teumsae e-kk-in-yosong: Korean American Women Between Feminism and Nationalism, The Review of Korean Studies 5, no. 2 (December 2002): 29-44.
"Blackness and American Identity in Korean American Literature," Writing Across Boundaries: Literature in a Multicultural World, ed. Uchang Kim, ed., Seoul, Korea: Hollym 2002.
"'These Bearers of A Homeland': An Overview of Korean American Literature, 1934-2001," Korea Journal 41, no. 3 (Autumn 2001): 149-197.
"Visible and Marginal: Changing the Status of Asian Pacific Americans," in UCLA Asian Pacific American Law Journal 6, no. 1 (Spring 2000): 55-60.
"In An Interracial World.." Letters of Intent, ed. Anna Bondoc and Meg Daly, New York: The Free Press, 1999: 52-61.
"Men's Talk: A Korean American View of South Korean Constructions of Women, Gender, and Masculinity," Dangerous Women: Gender and Korean Nationalism (co-edited with Chungmoo Choi), New York: Routledge, 1998: 67-117
"'At Least You're Not Black': Asian Americans in U.S. Race Relations," Social Justice 25, no. 3 (1998): 3-11.
Testimony, Civil Rights Journal, Fall 1997.
"On Yong Soon Min's Bridge of No Return," catalog essay for the Krannert Museum, fall 1997.
"Korean Americans in U.S. Race Relations: Some Considerations," Amerasia Journal 23, no. 2 (1997): 69-78.
"Asian Americans: Decorative Gatekeepers?" in Multiamerica: Essays on Cultural Wars and Cultural Peace, ed. Ishmael Reed, New York: Viking, 1997, pp. 205-212.
"Korean American Literature," in An Interethnic Companion to Asian American Literature, ed. King-Kok Cheung, New York: Cambridge University Press, 1997, pp. 156-191.
"'Bad Women': Asian American Visual Artists Hanh Thi Pham, Hung Liu, and Yong Soon Min," Feminist Studies 22, no. 3 (Fall 1996): 573-601.
"Review of Arranged Marriage by Chitra Divakaruni," Amerasia Journal 22, no. 1 (1996): 249-51.
"Korean American Women Writers," "Ronyoung Kim," and "Theresa Hak Kyung Cha," in Oxford Companion to Women's Writing in the United States, ed. Cathy N. Davidson and Linda Wagner-Martin, New York: Oxford University Press, 1995.
"Preface," in Charlie Chan is Dead: New Asian American Short Fiction, ed. Jessica Tarahata Hagedorn, New York: Viking Press, November 1993.
"A Different Dream: Eleven Korean-North American Visual Artists," Across the Pacific: Contemporary Korean and Korean American Art, New York: Queens Museum of Art, 1993.
"Home is Where the Han Is: A Korean American Perspective on the Los Angeles Upheavals," in Reading Rodney King/Reading Urban Uprising, ed. Robert Gooding-Williams, New York: Routledge, 1993; reprinted in Social Justice 20, nos. 2-3 (Spring-Summer 1993): 1-21).
"The Color of Money: Why Balanced Media Coverage is Just Good Business," A. Magazine 2, no. 1 (Spring 1993): 30-31.
"`Such Opposite Creatures': Men and Women in Asian American Literature," Michigan Quarterly Review XXXIX, no. 1 (Winter 1990): 68-93.
Review of Amy Tan's The Kitchen God's Wife, in Philadelphia Inquirer, June 30, 1991.
"A Critique of Strangers From A Different Shore," Amerasia Journal 16, no. 2 (1990): 101-111.
"Asian American Literature," Columbia Literary History of the United States, ed. Emory Elliott et. al., New York: Columbia University Press, 1988: 811-821.
"Sex Tourism in Asia: A Reflection of Political and Economic Inequality," Korean Women In Transition: At Home and Abroad, ed. Eui-Young Yu and Earl H. Phillips, Los Angeles: Center for Korean-American and Korean Studies, 1987: 127-144.
"Asian Americans and American Popular Culture," Asian American History Dictionary, ed. Robert H. Kim, New York: Greenwood Press, 1986: 99-114.
"Asian American Women At Work," in All American Women: Lines That Divide, Ties That Bind, ed. Johnetta B. Cole, New York: The Free Press, l986: 95-100.
"Asian American Literature and the Importance of Social Context," Association of Departments of English Bulletin Number 80 (Spring l985): 34-41.
"Asian American Writers: A Bibliographical Review," American Studies International 22, no. 2 (October l984): 41-78.
"The Portrayal of Chinese in Anglo-American Literature," The Chinese American Experience, San Francisco: Chinese Culture Center, l984: 244-255.
"Visions and Fierce Dreams: A Commentary on the Works of Maxine Hong Kingston," Amerasia Journal 8, no. 2 (1981): 145-61.
"Asian Americans and College English," Education and Urban Society 10, no. 3 (May 1978): 321-336.
"The Myth of Asian American Success," Asian American Review 2, no. 1 (l975): 122-149.
Fall 2005: Professor Michael Pollan, Knight Professor of Journalism in the Graduate School of Journalism
Books
The Botany of Desire: A Plant's-Eye View of the World (Random House, 2001)
A Place of My Own: The Education of an Amateur Builder (Dell, 1998)
Second Nature: A Gardener's Education (Dell, 1991)
"Our National Eating Disorder." The New York Times Magazine Oct 17, 2004 p74 col 01.
"Back to the Heart of Organics: 'Poison Free' Is Food, but Is It Good Enough?" Utne: A Different Read on Life Sept-Oct 2004 i125: 92(2).
"A Flood of US Corn Rips at the Heart of Mexico's Farms: The Effect of Free Trade in Corn Is the Decimation of the Farming Communities South of the Mexican Border." The Ecologist June 2004 v34 i5 p6(2).
"An American Transplant." The New York Times Magazine May 16, 2004 p72 col 01.
"Cattle Futures: Did You Know 'They' Feed Chicken Manure to Cattle?" Mother Earth News April-May 2004 i203 p24(2).
"Cattle Futures?" The New York Times Magazine Jan 11, 2004 p11(L) col 03.
"The (Agri)Cultural Contradictions of Obesity." The New York Times Magazine Oct 12, 2003 p41 col 03.
"The Futures of Food." The New York Times Magazine May 4, 2003 p63 col 01.
"Cruising on the Ark of Taste: By Pursuing the Politics of Pleasure, the Slow Food Movement Hopes to Save Rare Species and Delectables--and Give the Considered Life a Second Chance." Mother Jones May-June 2003 v28 i3 p74(5).
"You Want Fries with That? From a Business Perspective, the Fattening of America May Have Been a Necessity." The New York Times Book Review Jan 12, 2003 v108 i2 p6(1).
"When a Crop Becomes King." The New York Times July 19, 2002 s0 pA21(N) col 1.
"Michael J. Fox's Nuptials in Hell!" With Michael J. Fox Esquire June 1989 v111 n6 p137(10).
"Why Mow? The Case against Lawns." The New York Times Magazine May 28, 1989 v138 p22 col 1.
"Gardening Means War." The New York Times Magazine June 19, 1988 v137 p24 col 1.
"Cultivating Virtue." Organic Gardening Oct 1987 v34 n10 p95(2).
"Cultivating Virtue: Compost and Its Moral Imperatives." Harper's Magazine May 1987 v274 p66(4).
"Inventing Reality: The Politics of the Mass Media." The New York Times Book Review April 6, 1986 v91 p26 col 4.
"Keeping Television Regulated." The New York Times Dec 22, 1981 v131 p27(N) pA19(LC) col 1.
Spring 2005: Professor Yuri Slezkine, History
Interviewed by Gail Offen-Brown, College Writing Programs
Selected Bibliography
The Jewish Century (Princeton UP, 2004)
In the Shadow of Revolution: Life Stories of Russian Women from 1917 to the Second World War, coedited and translated, with an introduction (Princeton UP, 2000)
Arctic Mirrors: Russia and the Small Peoples of the North (Cornell UP, 1994)
Between Heaven and Hell: The Myth of Siberia in Russian Culture, coedited, with an introduction (St. Martin's Press, 1993)
Speak Russian! coauthor (University of Texas Press, 1990)
"N. Ia. Marr and the National Origins of Soviet Ethnogenetics," Slavic Review 55.4 (Winter 1996): 826-862.
"Primitive Communism and the Other Way Around," The South Atlantic Quarterly 94.3 (Summer 1995): 947-976.
"The USSR as a Communal Apartment, or How a Socialist State Promoted Ethnic Particularism," Slavic Review 53.2 (Summer 1994): 414-452.
"Naturalists versus Nations: Eighteenth-Century Russian Scholars Confront Ethnic Diversity," Representations, 47 (Summer 1994): 170-195.
"Savage Christians or Unorthodox Russians? The Missionary Dilemma in Siberia," in Between Heaven and Hell.
"From Savages to Citizens: The Cultural Revolution in the Soviet Far North," Slavic Review 51.1 (Spring 1992): 52-76.
"The Sovereign's Foreigners: Classifying the Native Peoples in 17th-Century Siberia," Russian History/Histoire Russe 19.1-4 (1992): 475-485.
"The Fall of Soviet Ethnography, 1928-1938," Current Anthropology 32.4 (August-October 1991): 476-484.
Spring 2004: Professor David Kirp, Public Policy
Selected Bibliography
Shakespeare, Einstein and the Bottom Line: The Marketing of Higher Education (Harvard University Press, 2003)
Education Policy and the Law, with Mark Yudof, Betsy Levin and Rachel Moran (Thomson Publishing Company, 2001)
Almost Home: America's Love-Hate Relationship with Community (Princeton University Press, 2000)
Our Town: Race, Housing, and the Soul of Suburbia, with John Dwyer and Larry Rosenthal (Rutgers University Press, 1996)
AIDS in the Industrialized Democracies: Passions, Politics, and Policies, co-edited with Ronald Bayer (McGill University Press, 1992)
Educational Policy and the Law, with Mark Yudof and Betsy Levin (West Publishing Co., 1991)
Learning by Heart: AIDS and Schoolchildren in America's Communities, with Steven Epstein, Marlene Strong Franks, Douglas Conaway, John Lewis and Jonathan Simon (Rutgers University Press, 1989)
Managing Educational Excellence, with Thomas B. Timar (Falmer Press, 1988)
Gender Justice, with Mark Yudof and Marlene Strong Franks (University of Chicago Press, 1986)
School Days, Rule Days, co-edited with Donald Jensen (Falmer Press, 1986)
Just Schools: The Idea of Racial Equality in American Education (University of California Press, 1982)
Educational Policy and the Law, with Mark Yudof, Tyll van Geel and Betsy Levin (McCutchan Publishing Co., 1982)
Doing Good by Doing Little: Race and Schooling in Britain (University of California Press, 1979)
Educational Policy and the Law, with Mark Yudof (McCutchan Publishing Co., 1974)
Spring 2003: Professor Linda Williams, Rhetoric and Film Studies
Interviewed by John Levine, College Writing Programs
Books
Figures of Desire: A Theory and Analysis of Surrealist Film (University of Illinois Press, 1981; paperback: University of California Press, 1991)
Hard Core: Power, Pleasure, and the Frenzy of the Visible (University of California Press, 1989, 1999)
Revision: Essays in Feminist Film Criticism, co-edited with Mary Ann Doane and Patricia Mellencamp (University Publications of America, 1984)
Viewing Positions: Ways of Seeing Film, editor (Rutgers University Press, 1994)
Re-inventing Film Studies, co-edited with Christine Gledhill (Oxford University Press, 2000)
"Playing The Race Card": Melodramas of Black and White from Uncle Tom to O.J. Simpson (Princeton University Press, 2001)
Journal Articles
"Women in Love: Review of Personal Best." Jump Cut: A Review of Contemporary Cinema 27 (July l982): l-l2.
"Eric Rohmer and the Holy Grail." Literature/Film Quarterly 11:2 (1983): 71-82.
"'Something Else Besides a Mother': Stella Dallas and the Maternal Melodrama." Cinema Journal 24 (Fall l984) 2-27.
"The Critical Grasp: Bunuelian Cinema and its Critics." Dada/Surrealism 15 (1986): 199-206.
"Power, Pleasure and Perversion: Sadomasochistic Film Pornography." Representations 27 (Summer 1989): 37-65.
"Film Bodies: Gender, Genre, and Excess." Film Quarterly Vol. 44:4 (Summer 1991):2-13.
"Mirrors without Memories: Truth, History and the New Documentary." Film Quarterly 46:3 (Spring 1993) 9-21.
Fall 2002: Professor Robert Hass, English, Former Poet Laureate of the United States
Interviewed by Kaya Oakes, College Writing Programs
Selected Bibliography
Poet's Choice: Poems for Everyday Life (Ecco Press, 1998)
Sun Under Wood: New Poems (Ecco Press, 1996)
Human Wishes (Ecco Press, 1989)
The Essential Haiku: Version of Basho, Buson, and Issa (Ecco Press, 1994)
Twentieth Century Pleasures: Prose on Poetry (Ecco Press, 1997)
Praise (Ecco Press, 1979)
Field Guide, (Yale University Press, 1973)
Anthologies
The Best American Poetry 2001, editor (Scribners, 2002)
American Poetry: The Twentieth Century, Volumes One and Two, edited by Robert Hass, et al. (The Library of America, 2000)
Rock and Hawk : A Selection of Shorter Poems by Robinson Jeffers, edited by Robert Hass (Random House, 1987)
Translations
A Treatise on Poetry, by Czeslaw Milosz, translated by Czeslaw Milosz and Robert Hass (Ecco Press, 2001)
Road-side Dog, by Czeslaw Milosz, translated by the author and Robert Hass (Farrar, Straus and Giroux, 1998)
Facing the River: New Poems, by Czeslaw Milosz, translated by the author and Robert Hass (Ecco Press, 1995)
Provinces, by Czeslaw Milosz, translated by the author and Robert Hass (Ecco Press, 1991)
Spring 2002: Professor Leon F. Litwack, History
Interviewed by Maggie Sokolik, College Writing Programs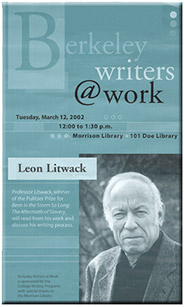 Selected Bibliography
Been in the Storm So Long: The Aftermath of Slavery (Random House, 1980). Winner of the Pulitzer Prize and the National Book Award
Trouble in Mind (Vintage Books, 1999)
North of Slavery: The Negro in the Free States, 1790-1860 (University of Chicago Press, 1965)
Without Sanctuary: Lynching Photography in America, with James Allen, et al. (Twin Palms, 2000)
Reconstruction: An Anthology of Revisionist Writing, by Kenneth M. Stampp, edited by Leon F. Litwack (Louisiana State University Press, 1969)
The American Labor Movement (Prentice Hall, 1962; reissue Simon Schuster, 1986)
Fall 2001: Professor Emeritus Timothy Ferris, Graduate School of Journalism
Interviewed by Steve Tollefson, College Writing Programs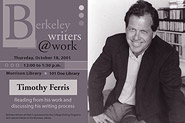 Selected Bibliography
Best American Science Writing 2001, editor (Harper Collins, 2001)
Life Beyond Earth (Simon & Schuster, 2001)
The Whole Shebang: A State-of-the-Universe(s) Report (Simon & Schuster, 1997)
The Universe and Eye, with illustrations by Ingram Pinn (Pavilion Books, 1993)
The Mind's Sky: Human Intelligence in a Cosmic Context (Bantam Books, 1992)
World Treasury of Physics, Astronomy, and Mathematics, editor (Little, Brown, 1991)
Coming of Age in the Milky Way (William Morrow & Co.,1988)
The Practice of Journalism, with Bruce Porter (Prentice-Hall, 1988)
SpaceShots (Pantheon Books, 1984)
Galaxies (Sierra Club Books, 1980)
Murmurs of Earth: The Voyager Interstellar Record, with Carl Sagan, Frank Drake, Ann Druyan, Jon Lomberg and Linda Salzman Sagan (Random House, 1978)
The Red Limit: The Search for the Edge of the Universe (William Morrow & Co., 1977)
A Life Beyond Earth, PBS television special, Narrator and co-writer, World Premier November 10, 1999
The Creation of the Universe, television science special, author and narrator, U.S. premier, PBS Network, November 20, 1985.
Voyager phonograph record, archive of Earth's music carried aboard the Voyager interstellar spacecraft, producer. Launched from Kennedy Space Center 1977. Released in CD-ROM format, Warner New Media, 1992.
Spring 2001: Professor Arlie Hochschild, Sociology and Adam Hochschild, Lecturer, Graduate School of Journalism
Interviewed by Maggie Sokolik, College Writing Programs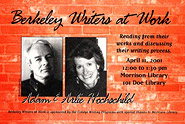 Arlie Hochschild
The Time Bind: When Work becomes Home and Home Becomes Work (Metropolitan/Holt, 1997)
The Second Shift; Working Parents and the Revolution at Home, with Anne Machung (Viking Penguin, 1989)
The Managed Heart: The Commericalization of Human Feeling (University of California Press, 1983)
The Unexpected Community (Prentice Hall, 1973; University of California Press, 1979)
Coleen the Question Girl (Feminist Press, 1974)
Adam Hochschild
King Leopold's Ghost: A Story of Greed, Terror and Heroism in Colonial Africa (Houghton Mifflin, 1998)
Finding the Trapdoor: Essays, Portraits, Travels (Syracuse University Press, 1997)
The Unquiet Ghost: Russian Remember Stalin (Viking Penguin, 1994)
The Mirror at Midnight: a South African Journey (Viking Penguin, 1990)
Half the Way Home: a Memoir of Father and Son (Viking Penguin, 1986)
Quotations
Adam Hochschild:
One thing I always tell my students at the journalism school is I think there is just as much, if not more, to be learned about good storytelling by reading short stories and novels and putting the techniques used there to work in telling nonfiction stories. There are certain disciplines, history is one, I think, where the art of storytelling is sometimes not completely lost.
But you know, about storytelling, I think most people have some storytelling instinct that's born in all of us. It tends to get bred out of you by the academic world and having to write for a particular form, the forms of academic journals or whatever. People who write the most incredibly dense and turgid writing in an academic journal are nonetheless capable, when they come home in the evening, of telling a bedtime story to a child. Because that storytelling instinct is in all of us somewhere. The thing is just to get rid of all those layers that tell you that you can't write the way you talk.
Arlie Hochschild:
What I do is waste a lot of time doing one terrible first draft that is my homage to the academic fathers, sort of a male thing. I feel okay, this is what you want, here, I'll do it. Then I burn it. ItÕs like the sacrificial offering. It has no use whatever except to absolve me of guilt so that I can then tell a story.
[About interviews] Although in graduate school you get taught to have these long questionnaires and so on, I actually, in my old age, think that all these questions are impediments to a person telling a story. If you sit down in front of a person, they have a story that they want to tell you. All you have to do is permit them to tell you that story. That involves dealing with your own anxiety about the story that they want to tell you.
Fall 2000: Dean Orville Schell, Graduate School of Journalism
Interviewed by Steve Tollefson, College Writing Programs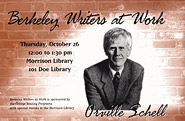 Selected Bibliography
Virtual Tibet: Searching for Shangri-La from the Himalayas to Hollywood (Metropolitan Books, 2000)
Mandate of Heaven: A New Generation of Entrepreneurs, Dissidents, Technocrats, and Bohemians Grasp for Power in China (Simon & Schuster, 1994; Touchstone, 1995)
Discos and Democracy: China in the Throes of Reform (Pantheon Books, 1988; Paperback: Anchor Doubleday, 1989)
To Get Rich Is Glorious: China in the 1980s (Pantheon Books, 1984; Paperback: New American Library, 1985)
Modern Meat: Antibiotics, Hormones and the Pharmaceutical Farm (Random House, 1983; Paperback: Vintage, 1984)
Watch Out for the Foreign Guests: China Encounters the West (Pantheon Books, 1980; Paperback: Pantheon, 1981)
Brown (Random House, 1978)
In the People's Republic (Random House, 1976; Paperback: Vintage, 1977)
The Town That Fought To Save Itself (Pantheon, 1976)
Modern China: the Story of a Revolution (Alfred A. Knopf, 1972)
Starting Over: A College Reader, co-authored with Frederick Crews (Random House, 1970)
The China Reader, co-authored with Franz Schurmann (Random House, 1967)
Spring 2000: Professor Bharati Mukherjee, English
Interviewed by Gail Offen-Brown, College Writing Programs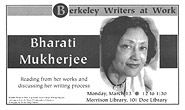 Selected Bibliography
Leave It to Me (Knopf, 1997)
The Holder of the World (Knopf, 1993)
Jasmine (Grove Weidenfeld, 1989)
Wife (Houghton Mifflin, 1975)
The Tiger's Daughter (Houghton Mifflin, 1972)
Days and Nights in Calcutta, with Clark Blaise (Doubleday, 1977)
The Sorrow and The Terror (with Clark Blaise, Viking Canada, 1987)
Darkness (Penguin Canada, 1985)
The Middleman and Other Stories (Grove, 1988)
Quotations
[I usually write] three total drafts. As I write, I don't look at the earlier draft. It's a very weird and wasteful way of proceeding, I suppose, but for me a draft is simply to find out what is the story I really want to tell, whose story is it that I want to tell. Sometimes the character I thought was the main character will get thrown out and put in file boxes and basements of houses in Iowa or Saratoga, and a very minor character will take over. I'd say that rewriting is not cosmetic for me, but it's thinking through each novel. I find it very claustrophobic to actually look at the last draft. [Each draft is] completely new.
The act of writing is a cosmogenic and a sacred act in Hindu Bengali families like mine. There is a special day, the day dedicated to Goddess Saraswati, who was the goddess of learning, and for whom I am named, Parathi being another variant of that same name. An adult takes your hand, guides your hand, and you write the first letter of the alphabet that you have ever written. But my mother, who got married at sixteen and a half and was not allowed to go out of the house, had guerrilla tactics, and was a literacy enthusiast who taught me to read from a very young age. I used to find little corners in this crowded household of forty-five to fifty relatives, hangers on, and so on, and devour everything. That excitement in reading is very hard to recapture. I don't know if I'll ever feel that control, that mastery over the world, as words become clear.
Fall 1999: Professor Alan Dundes, Anthropology and Folklore
Interviewed by Steve Tollefson, College Writing Programs
Selected Bibliography
Analytic Essays in Folklore (1975)
Cracking Jokes: Studies of Sick Humor Cycles and Stereotypes (1987)
From Game to War and Other Psychoanalytic Essays on Folklore (1997)
Interpreting Folklore (1980)
Life Is Like a Chicken Coop Ladder: A Portrait of German Culture through Folklore (1984)
Parsing through Customs: Essays by a Freudian Folklorist (1987)
The Study of Folklore (1965)
Two Tales of Crow Sparrow: A Freudian Folkloristic
Essay on Caste and Untouchability (1997)
Urban Folklore from the Paperwork Empire, with Carl R. Pagter (1975)
When You're up to Your Ass in Alligators: More Urban Folklore from the Paperwork Empire, with Carl R. Pagter (1987)
Never Try to Teach a Pig to Sing: Still More Urban Folklore from the Paperwork Empire, with Carl R. Pagter (1991)
The Evil Eye: A Casebook (1992)
Little Red Riding Hood: A Casebook (1989)
Sacred Narrative: Readings in the Theory of Myth (1984)
The Vampire: A Casebook (1998)
The Walled-up Wife: A Casebook (1996)
The Blood Libel Legend: A Casebook in Anti-Semitic Folklore (1991)
Cinderella: A Folklore Casebook (1982)
The Cockfight: A Casebook (1994)
Quotations
. . . a lot of my things–even the book on India, which I consider my best book–went to, I think, six university presses before it finally found a publisher. So, even though you're experienced and you're a veteran and you've been a lot and you've had a reasonable publication record, you can't just send out the manuscript that you think is fine and then somebody's going to publish it. Doesn't happen.
My philosophy–and I'm glad I have a chance to say it–my rule has always been, whether it's a book or an article, if it comes back (and, as I say, most of them do come back because people don't like Freud or they don't like me. . . who knows?) my rule is I send it off the same day. The same day - and I already know who I'll send it to. I have number two. I send it to the best journal or the best publisher. Then, when it comes back, I don't wait around because you get depressed when it comes back and somebody says, "You don't know what you're talking about. You're wrong," or whatever. You know? I get tired. My wife tells me these things; I don't need to hear it from these other people.
So, I just say, "Oh, it's going off to journal number two." Of course, I don't tell journal number two that it's come back from journal number one. I just hope it isn't the same reviewers. "Oh, we've already said this is a lousy piece of work. Why are you sending it to us again?" But that's my rule. Send it off the same day.
Fall 1998: Professor Frederick Crews, English
Interviewed by Steve Tollefson, College Writing Programs
Selected Bibliography
The Tragedy of Manners: Moral Drama in the Later Novels of Henry James (1957)
The Pooh Perplex: A Freshman Casebook (1963)
The Sins of the Fathers: Hawthorne's Psychological Themes (1966, 1989)
The Patch Commission (1968)
The Random House Handbook (1974, Sixth ed., 1992)
Out of My System: Psychoanalysis, Ideology, and Critical Method (1975)
Skeptical Engagements (1986)
The Critics Bear It Away: American Fiction and the Academy (1992),
The Memory Wars: Freud's Legacy in Dispute (1995)
Unauthorized Freud: Doubters Confront a Legend (1998)
Quotations
If you are serious about revision, and serious about listening to people who can give you a really hardnosed, rational critique of your work, your eventual prose is going to turn out to be better than yourself. It's going to be more logical than you are. It's going to be more eloquent than you are. It's going to impress people in a way that you don't impress people. And then you get the thrill of being known for something that is an artifact of a process, rather than for your own beautiful inner nature–and, at my age, I'll take it.
Spring 1998: Professor Nancy Scheper-Hughes, Anthropology
Interviewed by Jane Hammons, College Writing Programs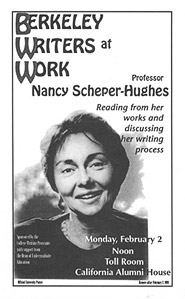 Selected Bibliography
Death without Weeping: The Violence of Everyday Life in Brazil (1992)
Saints, Scholars, and Schizophrenics: Mental Illness and Irish Culture (1976)
Small Wars: The Cultural Politics of Childhood, University of California Press (1998)
Quotations
I tend to write. . . to individuals. In fact . . . I generally have photos in front of me when I write.
And maybe this is the vestige of my Catholic education; they're like little relics. [Shows a photograph to audience] This is my favorite informant, Bieu, who's taken out her false teeth--the playful side of Bieu. I try to amuse her sometimes. Or some of my favorite street kids will be out there. Or a picture of the local priest, and I'll be then arguing with aspects of Catholicism.
. . . Sometimes I write to the Pope. And in fact, I had a dream when I almost finished Death Without Weeping, that Pope John Paul was in a crowd, and turned around, and I very nervously handed him my book. And he took it, he smiled, and he blessed me.
[Pulls out a little figurine] Yeah, this is my little icon. It's a little naked devil. And I keep him in front of me, sticking his tongue out because, you know, you have to have a sense of humor about writing, and also because you write with your angels, but you write with your devils too. And you'd be lost if you got rid of all those devils, because they really help you, they give you your passion, and so, it's bringing the angels and the devils together in your writing.
Fall 1997: Professor Robin Tolmach Lakoff, Linguistics
Interviewed by Steve Tollefson, College Writing Programs
Selected Bibliography
Language and Women's Place (1975)
Face Value: The Politics of Beauty (with Raquel Scheer, 1984)
Talking Power; The Politics of Language in our Lives (1990)
Father Knows Best: The Use and Abuse of Power in Freud's Case of Dora (with James C. Coyne) (1993)
The Language War (2000)
Quotations
Proofreading is what I hate. I detest editing and one of the things I've had to learn with more difficulty than almost anything else in the course of learning how to write is that you have to proofread and you have to edit. I do not use a spell checker because it's more annoying than helpful, I find. I certainly don't use a grammar checker because I am the syntactician here. Nobody's going to tell me–no stupid machine is going to tell me–how to write a sentence. But, yes, you do have to proofread and there is no way for it not to be obnoxious.
Spring 1997: Professor Ronald Takaki, Ethnic Studies/Asian American Studies
Interviewed by Steve Tollefson, College Writing Programs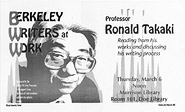 Selected Bibliography
A Different Mirror: A History of Multicultural America (1993)
Iron Cages: Race and Culture in 19th Century America (1990)
Hirsohima: Why America Dropped the Atomic Bomb (1995)
Double Victory: A Multicultural History of America in World War I (2000)
A Larger Memory: A History of our Diversity, with Voices (1998)
Quotations
I can write sometimes for eight hours, ten hours with just a break for lunch.
It's that way with almost every book; I get absorbed in it. When I was in Hawaii, I was writing Iron Cages, and I would often go jogging or bicycling–some of you know that I'm a surfer, right? I'd go to the beach around 4:00. What's kind of interesting here, I'm also still thinking about that chapter that I was working on. Maybe just being out there, away from my desk, enables me to see pieces of the puzzle come together in a different kind of configuration.
I guess what I would say to students is these breaks can be very important in terms of the writing process.