Classroom in Progress Brownbag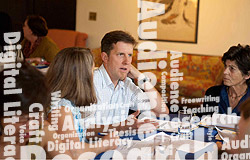 "Classroom in Progress" is a monthly brownbag series where graduate students, faculty members, and others interested in writing instruction come together in an informal environment to share ideas and concerns regarding classroom structures, assignments, activities, policies, and procedures.
The workshop addresses issues that immediately affect teachers and students in writing-intensive classrooms.
Current Brownbag Schedule
The Connection between Ideologies and Language-Learning Success: What Role Does the Teacher Play?
Date: March 21, 2013
Time: 12:15-1:15 p.m.
Location: Quinn Room, 114 Wheeler Hall
Facilitators:  Julie Kerekes, Ph.D.
As part of an ongoing study of the role of second language ability and use in internationally educated professionals' employment trajectories in Canada, in this presentation we will try to understand the language-related experiences of internationally educated engineers seeking employment.
Language mentoring sessions with two focal participants are compared. While both participants learned English as a Foreign Language and immigrated to North America to seek better professional opportunities, their outlooks and outcomes are strikingly different across the following emergent themes: their developing theories about North Americans and North American culture; their perceptions and reports of others' perceptions regarding their work prospects; and the relationship between their language use, the discursive construction of their mentoring sessions, and their employment trajectories.
After sharing these two participants' stories, we will look at examples of their language development and the role their mentors played in helping them (or not helping them) to improve their spoken language. We will consider how these interventions compare to what you do, or what you might do, in the classes you teach.
Previous Topics
Bringing an Instructor's Writing Talents into the Classroom
Responding to Students' Texts
Reading in Composition Classrooms
Collaborative Writing and Learning in a Portfolio-based Class
Evaluating a Text: What Makes Writing Work?
Responding to Students' Offensive Comments
Scaffolding and Modeling for Students
A Case for Dictations in the University Classroom
Journal Writing
Vocabulary Building for Students
Narrative Assignments
Using Election Materials in the Writing Classroom
From Professional Conference to Classroom Practice

 

Blurters, Dozers, and Smirkers: Managing Classroom Discussions
Preparing Students for Portfolios
Encouraging Collaboration in the Writing Classroom
Reading Practices in Composition Classrooms
Teaching Argumentation
Teaching Non-Argumentative Texts
Narration v. Exposition: A Teaching Demonstration
Undiagnosed Learning Disabilities
Successful Assignments
Socratic Circles
Public Speaking
Assignment Development
Working with Students with Disabilities in a Reading- and Writing-Intensive Course
Multimodal Composition for the Digital Age

 

Peer Response Activities, I
Introducing Scientific Discourse in the Composition Classroom
Personal Narratives
Peer Response Activities, II
Reading Writing Reflection
"What Do I Do When Students . . . "
Finding and Defining a Thesis for Text Analysis Essays
Addressing Grammar and Punctuation Challenges
Locating Logical Arguments
Analyzing Visual Texts
Analyzing Texts
Teaching Text Analysis
Using Internet Resources in the Composition Classroom
Integrating International Students into Reading- and Writing-Intensive Courses
All brownbag sessions will meet in the CWP Quinn Room in 114 Wheeler Hall. Participants are invited to join us when they can, for as long as they can. Brownbag topic and session schedules will be posted here as information becomes available.
For more information, contact Caroline Cole cmcole@berkeley.edu.