Off Campus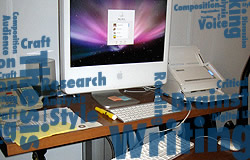 To supplement our list of on campus resources, we have compiled a list of useful resources available online elsewhere, including: online writing labs, style manuals, publishers, and grants.
Please select an Off Campus resource from the list below to find more information.
Dictionaries, Style Manuals, and Grammar and Editing Sites
Academic Word List
As an aid to enhance academic vocabulary, this site divides the Academic Word List (the most common 808 words in academic texts in English, excluding the most frequent 2000 words in English) into eleven levels.

Ask Oxford
The Oxford English Dictionary, the most thorough and comprehensive dictionary in print, is not available online. However, its editors have put together this site, which offers valuable and sometimes surprising information on language, including tools for writers and students of writing.

Bartlett's Familiar Quotations
Part of the Bartelby project (a collection of great books online), the quotations are readily searchable.

Bedford/St. Martin's Composition Site
If you're a College Writing student, chances are you're using one of this publisher's books in your class. The St. Martin's website offers online workshops and exercises to accompany many of its composition anthologies and handbooks.

British National Corpus
This corpus is a 100 million word collection of written and spoken British English. Type in a word to investigate common collocations and see how the word in used in context.

Cambridge Dictionaries Online
This site provides both a definition and a sample sentence for each word you enter in the search window. To access the site, you'll need a CalNet ID and passphrase.

 

Common Errors in English
Paul Brians of Washington State University compiled and updates this opinionated, sometimes picky but helpful list of common errors. Useful for both native and nonnative English speakers.

The Compleat Lexical Tutor
To research your own word usage, visit this site.

Dictionary.com
This online dictionary offers an easily searchable database, and produces fast and thorough results.

Encyclopedia Britannica
You have to register and pay to retrieve full-text articles from this site, but it's a fast and easy way to search for encyclopedia entries without resorting to a trip to the library.

Library of Congress
America's founding library's homepage offers many informative links to information, including search tools for government and U.S. history, and also features the library's full online catalog.

Michigan Corpus of Academic Spoken English (MICASE)
Instead of looking up dictionary definitions, you can use this concordance to see how words are actually used. The concordance includes 152 texts that contain 1,848,364 words, allowing you to search for phrases in specified contexts. To access the concordance, you need a CalNet ID and passphrase.

 

Multiple Dictionary Links All in One
Over nine hundred online dictionaries and glossaires are indexed on this site. Type in the word and enter, then click on the dictionary you want to check. You can check etymology too.

Project Gutenberg
Begun in 1971 by Michael Hart at the University of Illinois, Project Guttenberg puts full texts of books onto the web for free. Thus far, over six thousand ebooks are available through the project, and hundreds are added every week.

Roget's Thesaurus
Sponsored by the University of Chicago, Roget's Thesaurus is the resource for writers looking for the right word.

Strunk and White's Elements of Style
Also sponsored by the Bartelby project, Elements of Style is considered by some to be the most effective and handy style manual for writers.

WebGrammar
This vast and useful site offers thousands of links to resources for writers. It's not just about grammar; there are research tools here for subjects across the curriculum.

Web Vocabulary Profiler
Paste in your own text to view an analysis of the type of words used from the 2000 most frequently used words and the Academic Word List of 880 words most frequently used in academic texts across the disciplines.
Online Writing Labs
Computers and Composition Online
The web journal for the print journal of the same name. Archives of articles date back to the journal's founding in 1983.

International Writing Centers Association
This association links together many OWLS and offers online resources for teachers and students.

Michigan Tech Writing Center
This site offers some useful writing tips, including a quick breakdown of the rules for citation.

 

Purdue Owl
This online writing lab is the most thorough and useful website many CWP instructors have ever encountered. In addition to extremely helpful practice exercises for students, the OWL offers downloadable handouts on a vast variety of writing and research topics, including ESL, professional writing, general writing concerns, and grammar.

TESOL Online
The home page for Teachers of English to Speakers of Other Languages, TESOL is a valuable resource for students and instructors. Their site includes information about their annual convention, as well as information for those interested in becoming instructors in TESOL.

 

The Writing Center at Virginia Tech
This site features a grammar hotline that will answer questions about grammar via email or phone. It's open to the public.

Trinity College Writing Center
Of particular use here are the links to research sites, including sites for full-text citations.

University College Writing Workshop: Writing Handouts
The University of Toronto's Writing Center offers writing guides covering topics such as essay organization and proper use of quotations.
Links for Book Reviews
Granta
Granta is a British quarterly publication of short fiction and essays. Although most of its authors are British, American readers will find plenty here to explore. Each issue has a theme (recent issues have included "The Overheating World," "Celebrity," and "What We Think of America").

McSweeney's
McSweeney's is the online home of the literary magazine of the same name. This website is updated frequently with fiction, poetry, essays, and miscellaneous diversions such as "Interviews with Barbers" and "Sumotalk." Quirky and entertaining.

 

Modern American Poetry
Sponsored by the University of Illinois at Urbana-Champaign, this site features useful links to critical essays on poems and poets, along with sample syllabi from poetry courses.

The New York Review of Books
Arguably one of the most influential and wide-reaching book review publications, The New York Review's website offers capsule reviews and previews of the content of current and upcoming issues.

 

The New York Times Book Section
The Times is famous for its book reviews, which can make or break an author's reputation. The reviews are generally thorough and well-researched, making this an excellent place to research your book-buying and reading. One-time registration is required to use this site.
Links for Publishing, Literary Research, and ESL
Poets and Writers Magazine
Poets and Writers is a bi-monthly print magazine for creative writers. Its website includes a list of calls for submissions from literary magazine editors, anthology editors, and small presses. You can also find grant information here, as well as information about writer's colonies and writing retreats.

 

TESL-EJ
TESL-EJ is a fully refereed academic journal devoted to research in English as a Second or Foreign Language.

 

Zuzu's Petals Literary Resource
This wide-ranging site features more than ten thousand links for creative writers, including information on literary magazines, grants, censorship, and film resources, and information for parents, teachers, researchers, and librarians. It also showcases recent literary news and events.
Events, Grants, Workshops, and Forums
The Academy of American Poets
This venerable organization promotes the reading and writing of poetry among a wider American audience. The website offers information about grants, scholarships, and awards, along with a very useful "Find a Poet" feature that links you to biographies, poems, and online exhibitions.

Bread Loaf
Bread Loaf, America's most prestigious writing workshop, takes place annually at Middlebury College in Vermont. For undergraduates, scholarships are available.

Chronicles Network
Chronicles Network is a forum for discussion of science fiction and fantasy. The website allows writers to post pieces for critique and feedback by members.

 

Craigslist
Craigslist is a vast online community for the Bay Area. Here, you can find community discussions about writing as well as information about writing groups and writing workshops.

826 Valencia
Located in San Francisco's Mission District and founded by Dave Eggers of McSweeney's, 826 Valencia is a nonprofit writing center for young people from eight to eighteen years old. The center offers tutoring and writing workshops in creative writing, expository writing, and ESL run by a volunteer staff.

 

Poetry Flash
The "Literary Calendar for the West", Poetry Flash offers an exhaustive listing of readings, workshops, and literary events for Northern and Southern California (and it's not just about poetry readings; fiction and nonfiction are featured here as well).

SF Station Literary Arts
A clearinghouse for information about literary events in addition to a being a place to search for a writing group or book club, this site also features interviews with local writers.
Bay Area Bookstores
Black Oak Books
Located on the north side of campus, Black Oak sells new and used books and offers author readings almost every night of the week.

City Lights Books
A San Francisco Landmark, this Beat Generation era bookstore is still a worthwhile expedition for any writer interested in the literary history of the Bay Area.

 

Moe's Books
Located on Telegraph Avenue just south of campus, Moe's has been a part of the campus community since the sixties and has five floors of used and new books on nearly every topic you can imagine.

Pegasus Books
Pegasus, an independent bookstore, has two locations in Berkeley: one in North Berkeley near the Alameda, and another at the corner of Durant and Shattuck, a few blocks from campus.

 

Small Press Distribution
This company is one of the only book distributors in the world dedicated to distributing fiction, poetry, and nonfiction from small presses. The catalog is available online, and their West Berkeley location offers occasional warehouse sales and author events.