On Campus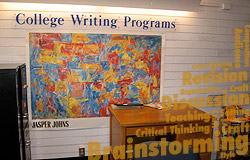 UC Berkeley offers many resources for writers and teachers of writing.
We have listed some of the best to help you find what you're looking for, including developmental tools for teachers, events for writers, and support and opportunities for students.
Please select an On Campus resource from the list below to find more information.
Opportunities for Student Writing
Berkeley Undergraduate Journal
The Berkeley Undergraduate Journal welcomes papers in all academic fields from UC Berkeley undergraduates. Essays are selected on the basis of academic content, general interest, and clarity of writing. The journal is sponsored by the Division of Undergraduate and Interdisciplinary Studies of the College of Letters and Science.

 

Campus Prizes in Writing
The Academic Senate Committee on Prizes awards a number of prizes in poetry and prose, including short stories, essays in a variety of subject areas, and other kinds of writing. Some of the prizes are substantial.

Creative Writing Minor
The campus offers a minor in creative writing, through the division of Undergraduate and Interdisciplinary Studies.

 

Student-Run Publications
There are more than fifty student publications on the Berkeley campus—ranging from literary, humorous, and academic to ethnic, cultural, and political, and including a daily student newspaper and an award-winning yearbook. These publications seek submissions of all kinds—poetry, essays, articles, and stories—from Berkeley undergraduates.
Programs and Classes on the Teaching of Writing
Classroom in Progress Brownbags
This is a series of informal workshops sponsored by the College Writing Programs addressing issues that immediately affect teachers and students in writing-intensive classrooms. All brownbag sessions will meet in the CWP Quinn Room in 114 Wheeler Hall. Participants are invited to join us when they can, for as long as they can. Brownbag topic and session schedules will be posted on-line in the Calendar of Events as information becomes available.

 

College Writing Programs Graduate Courses
These courses are designed for graduate students across campus who currently teach or who plan to teach writing or writing-intensive courses at the college level. CW 300 introduces graduate students to composition theory and best practices. CW 300P is a practicum offering individualized training, observation, and videotaping.

 

Bay Area Writing Project Saturday Seminars
These free seminars are held once each month from October through May for Bay Area teachers of all levels who want to learn more about the teaching of writing. Seminars are led by Bay Area Writing Project Teacher-Consultants who are, themselves, teachers of writing. Seminars occur on the first Saturday of the month, and may be taken for one semester of UC Extension credit.
Resources on the Teaching of Writing
UC Berkeley Reading and Composition
The site offers information about the UC Berkeley Reading and Composition (R and C) Requirement, including information for departments wishing to initiate an R and C course, administrative information for teaching or preparing to teach an R and C course, and resources for instructors who are teaching such courses. The teaching resources on the site are useful to anyone who assigns writing in a course.

Writing Across Berkeley
Writing Across Berkeley is a forum on the teaching of writing for graduate students and faculty across campus and beyond, paying attention to our common ground, the enterprise of writing.

Encouraging Student Writing
This downloadable document provides information on how to help students improve their writing, including a series of "Tip Sheets" on writing for students, which may be duplicated and distributed. The tips are geared specifically for UC Berkeley instructors who assign writing in their courses, but who do not teach writing classes.

Tools for Teaching
Tools for Teaching (by Barbara Gross Davis, Jossey-Bass, Publishers), Chapter 24, "Helping Students Write Better in All Courses," is available online.

 

GSI Teaching and Resource Center
The GSI Teaching and Resource Center, located at 301 Sproul Hall, is an academic unit within the Graduate Division that provides pedagogical support and guidance for Graduate Student Instructors. They offer programs such as Orientation Conferences, workshops, and individual consultation that deal with teaching in a range of fields, including the teaching of writing.

Course Improvement Grants for Graduate Student Instructors
This grant program provides up to $300 for projects which will enhance student learning and increase the teaching effectiveness of Graduate Student Instructors.

Instructional Improvement Grants
Faculty can obtain small amounts of money (up to $1,000) through the Minigrant Program or larger amounts (up to $3,500) through the Classroom Technologies Grants Program for classroom innovations of all kinds, including those related to writing. Contact teaching@berkeley.edu for more information.

Berkeley Language Center
The Berkeley Language Center improves and strengthens foreign language instruction on the Berkeley campus by keeping teachers informed of new developments in the fields of language pedagogy, second language acquisition, and applied linguistics.

 

Bay Area Writing Project
The Bay Area Writing Project is a collaborative program of UC Berkeley and Bay Area schools, dedicated to improving writing and the teaching of writing at all grade levels and in all disciplines. The Project includes an expanding network of exemplary classroom teachers, kindergarten through university who, throughout the summer and school year, conduct professional development programs for teacher and administrators.

California Writing Project
California Writing Project supports a network of K-college teachers with professional development and leadership designed to improve writing and learning in California schools.

National Writing Project
The mission of the National Writing Project, housed at UC Berkeley, is to improve the teaching of writing and improve learning in the nation's schools. Through its professional development model, the National Writing Project recognizes the importance of teacher knowledge, expertise, and leadership.
Writers Events
Berkeley Writers at Work
Berkeley Writers at Work is a once-per-semester forum in which well-known Berkeley faculty are interviewed on stage about their writing process. The events are free and open to the campus community. Some instructors assign students readings from the guest authors and make Berkeley Writers at Work a part of their assignments for the semester. For more information, contact Steve Tollefson (510) 642-6392. Email: tollef@berkeley.edu.

 

Lunch Poems
Lunch Poems is a noontime poetry reading series under the direction of Professor Robert Hass. Readings take place on the first Thursday of the month in the Morrison Room of the Main Library. These events are free and open to the campus community.

 

Story Hour
Story Hour is a prose reading series hosted by English department faculty Vikram Chandra and Melanie Abrams, featuring distinguished writers from the Bay Area and beyond. Readings take place once a month on a Thursday evening.
Writing Support for Students
Student Learning Center: Writing Program
The Student Learning Center offers tutoring in writing for all undergraduate courses. Weekly individual tutoring and writing workshops support students taking R and C courses. Students in other writing-intensive courses may take advantage of drop-in, by-appointment, and limited individual tutoring. If you have a student who needs writing help that you cannot provide, this is the place to start. For more information, contact the Writing Program Coordinators, Alberto Ledesma (643-5737) and Carolyn Swalina (643-9908).

The Academic Services in the Residence Halls
The Academic Services in the Resident Halls website includes tips on writing and reading and advice on preparing for essay tests, as well as information about tutoring services.

 

Disabled Students' Program
DSP staff recommend academic accommodations-like large-print handouts or extended time for exams-so that students have a chance to learn and demonstrate what they have learned in classes. The program also provides many support services: Auxiliary Services (notetakers, sign language interpreters, etc.), disability-related advising, instruction in academic strategies and study skills, technical support in selecting and adapting computers-assistive technology. They also publish a helpful booklet for faculty, Teaching Students with Disabilities.

Athletic Study Center
The program provides study groups, individual tutoring, and advising for student athletes. Certain classes (College Writing, composition classes, and foreign languages) have regular tutors assigned. Tutoring for other classes can be arranged by request. Each student athlete is assigned an individual adviser.

 

Student Learning Center: Services for Non-Native English Speakers (NNS)
The Student Learning Center offers additional support for NNS writers, including grammar and word choice help, editing practice, and assistance with critical reading. The NNS Academic Literacy Specialist accepts student referrals and is available to meet one-on-one with instructors or visit departmental training sessions to provide strategies for working with NNS writers. For more information, contact the Writing Program Coordinators, Alberto Ledesma (643-5737) and Carolyn Swalina (643-9908).
Reading List and Library Resources
Summer Reading List for Freshmen
This annual list suggests summer reading for UC Berkeley incoming freshmen. It includes synopses and personal reactions to the listed books by various people from around campus, in order to help students decide which they might want to read.

 

Course-Related Library Instruction
UCB Library staff will arrange for group tours, drop-in classes, and course-integrated introductions to the library, covering conducting research and seeking information in the library and beyond, for individual classes and programs.

Moffitt Library 
Moffitt Library has a large collection of resource books—grammars, rhetorics, style books—on writing in general and on writing in particular areas (humanities, sciences, social sciences). A listing of these books can be accessed on UC Berkeley's web-based catalog, using subject keywords English Language-Rhetoric and limiting to location Moffitt.

 

Research Advisory Service
The service is located in the Doe Reference Center on the second floor of Doe Memorial Library. Students can make half-hour appointments for assistance with library research projects in the humanities and social sciences.
Resources for Citing Sources
Public Speaking
Oral Presentation Techniques
Tip sheets from the Office of Educational Development that include general considerations for presentations, a delivery checklist, and advice for effective public speaking.

 

Cal Forensics
The oldest (1862) student organization on campus, Cal Forensics helps students develop essential skills in public speaking. Information about Cal Forensics can be found in the Student Organizations section of the Office of Student Life.